Although perhaps you don't have time to enjoy your pool as much as you'd like to, there are other ways of relaxing in water, such as spas. We aren't just talking about spas at hotels or health centres, but about domestic spas you can install in your own home.

The spas that we offer you at Neda combine all the qualities of a large spa, but in a very small size: from 2 x 2 m for square-shaped ones such as the Ohara spa, and from 2. 18 x 1 m for rectangular ones like the Yukon Plug & Play Spa.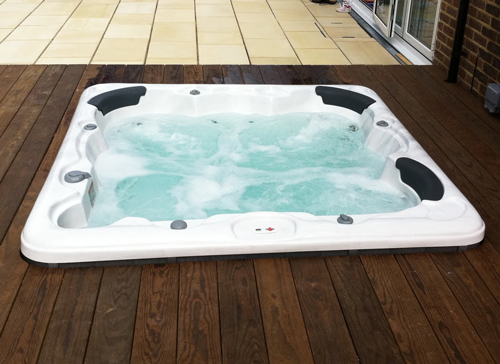 These spas can be installed both indoors and outdoors, depending on your preferences and the available space. To better adapt to outdoor conditions, the spas have a cover to protect the water and the installation itself when not in use.

In addition to the hydrotherapy that these spas provide, they increasingly offer more benefits to make your bathroom a relaxing experience in which various senses take part. Many of the spas come equipped with aromatherapy systems, Mp3 audio equipment, integrated lighting or chromotherapy. And they don't just offer relaxation features. For example, the Swim Spa Saint Lawrence incorporates an upstream swimming pool that lets swimmers train in the comfort of their homes.

The benefits of spas are manifold, both physically and psychologically. The power of water acts on our muscles and bones, providing gentle or energetic massages that alleviate tensions and aches and pains and reactivate circulation.

As regards emotions, the spa produces a relaxing effect that combats stress and insomnia. Imagine coming home and relaxing for a while your own spa. Or stop imagining and make it happen.