Respect for water and its rational use forms the basis of our group's philosophy.

THINK GREEN! Think green when you equip your pool
VARIABLE SPEED PUMP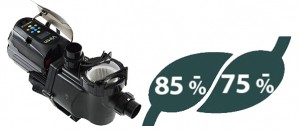 It has a reduced sound level and saves energy as the filtration system can be run at night.
Saving of 85% on power consumption.
Reduced sound level of 75%.
The variable speed pump is the most efficient pumping solution for swimming pools.
It allows the operation of the pump to be adjusted according to the needs of the installation and the user. By halving the pump speed and flow rate, energy consumption can be reduced by more than 85%.
The Victoria Plus Silent VS pump has a noise level 75% lower than a single-speed pump, making it the quietest pump on the market. Its noise levels of less than 63 dB make it imperceptible to human hearing.
NANOFIBER FILTER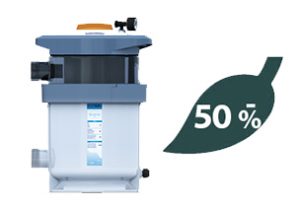 Saves 50% of water used in filter backwashes.
The NanoFiber self-cleaning filter features nanofibre technology that improves water quality, guaranteeing maximum filtering quality in swimming pools up to 90 m³. Its exclusive filtration system avoids precipitated encrustations and extends the useful life of the product.
In addition to its ease of use, cleaning and reliability, its properties also include a compact and durable design. This system is a reference in terms of efficient water consumption and is compatible with other filtration and pumping devices.
LED LIGHTING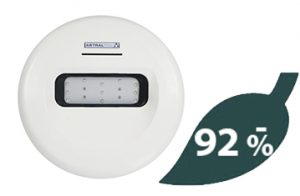 Saves electricity.
Saves up to 92% on power consumption.
POOL CLEANERS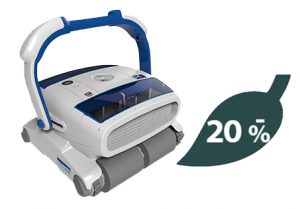 It saves on the water used for filter backwashes, as well as avoiding cleaning pools manually. Put yourself in its hands!
Enables savings to be made of 20% on the water used for filter backwashes.
GLASS FILTER MEDIUM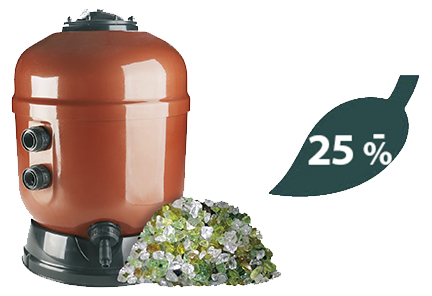 Saves water in filter backwashes as it optimizes filtration times and frequency.
Saves 25% of water used in filter backwashes.


SALT CHLORINATOR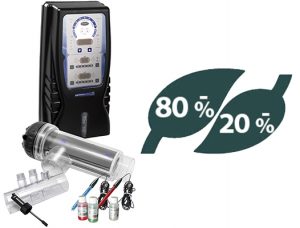 Besides having healthier water, disinfecting pools using a salt chlorinator will also enable you to make an 80% saving on chemical products and save 20% on water consumption.
COVER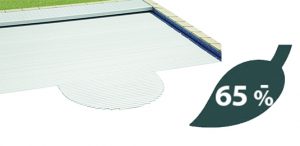 Reduces water losses from evaporation, maintenance and filtration.
Reduces evaporation by up to 65%.
Saves 25% of heating energy.
At our
NEDA SHOPS
you'll find a wide range of products for your pool, as well as personalised advice adjusted to your needs.