UNIQUE BENEFITS
The safest water:

P

revents the transmission of pathogens (E.g. Crypto)

The clearest water:

Offers a stable 1 micron filtration rate.

The healthiest air:

Prevents the formation of DBPs and chlorine smells.

The lowest operating costs:

Saves backwash water and chemicals.

The most sustainable filtration:

Outlasts all other filter media
THE LOWEST OPERATING & MAINTENANCE COSTS

Up to 50% less backwash water
Sand needs - according to DIN standards - to be backwashed at 60m/h for 5 minutes or longer. AFM® only needs 40 to 50 m/h backwash velocity. The backwash efficiency is higher, because no biofilm is coagulating the grains and a backwash duration of 4 minutes is enough to remove all particles. As a result, approx. 50% of the backwash water can be saved.

Filter maintenance
A major cost factor is the cost of replacing the media (removal, disposal and filling with new media). These costs are the same for AFM® and sand, but the life expectancy of AFM® is much higher than sand. AFM® outlasts all other filter media and offers a guaranteed return on investment.

Unique 100% bio-resistant filter media
One of the main differences between AFM® and other filter media such as sand and crushed glass is its bio-resistance. When in contact with water flowing through the filter, a small amount of free radicals (O. and OH.) are formed on the surface of the grains. Thanks to their strong oxidation potential, free radicals protect AFM® from colonisation by bacteria and fully prevent the formation of biofilm.

How do bacteria survive in a swimming pool?
Within just a few days, bacteria will colonise all surfaces in contact with water. The largest surface in contact with water in a swimming pool is the quartz sand in the filter. 1 m3 of quartz sand has a surface of 3000m2 and it is an ideal breeding ground for bacteria. Bacteria will attach to the surface of the sand grains and, within seconds, will form a biofilm that protects them from oxidants. In this protective biofilm, bacteria can grow and multiply. Even high chlorine concentrations and good backwashing cannot stop this development completely.

THE 3 MAIN PROBLEMS OF BIOFILM

1 INCONSISTANT AND UNRELIABLE FILTRATION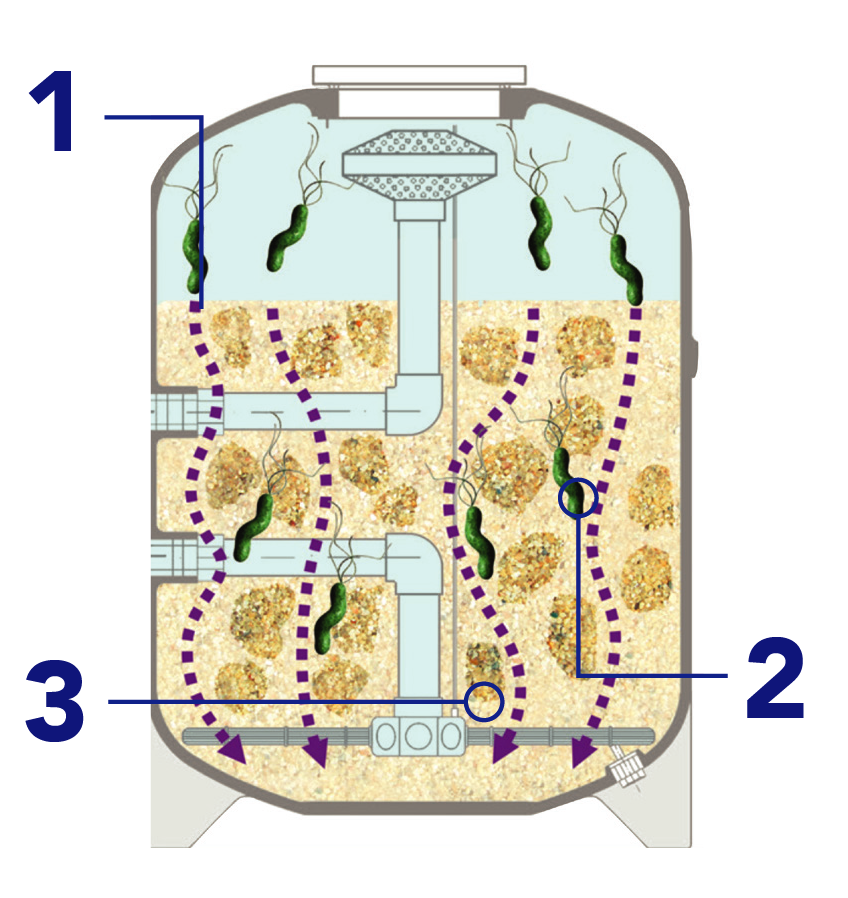 After 6 – 12 months, biofilm on the sand has developed to a degree where the grains stick together, forming clumps and causing channelling of the filter bed that reduce filtration performance and allow unfiltered water to reach the bathers. Filtration performance with AFM® is predictable, reliable, and remains stable over the years. There is no possibility of unfiltered water reaching the pool.
2 PATHOGENS
The filter develops into a breeding ground for pathogens, such as legionella and pseudomonas. Periodically, bacteria flocs will break through the filter. AFM® prevents the growth and the transmission of these pathogens. Pool water is therefore much safer.

3 TRICHLORAMINE - CHLORINE SMELL
Pool users add sweat and urine in the pool water. They consist of 80% of urea. Bacteria in the biofilm convert this urea into ammonia which then reacts with chlorine to form inorganic chloramines (mono-, di- and tri-chloramine). Trichloramine (NCl3) is very volatile and is responsible for the unpleasant chlorine smell. It is also a severe health hazard causing skin, eye and lung irritation. With AFM®, there is no biological conversion from urea to ammonia inside your filter : No biofilm - No trichloramine - No chlorine smell !