Don't forget to keep treating the water in your pool to obtain the best chlorine and pH conditions and prevent the formation of algae with specific algicide products to keep your pool dirt-free.
Summer's here and it's essential to keep your pool clean so you can enjoy it with your family and friends. Using
coagulant products
will help keep it
clean
and prevent the build-up of particles like pollen, mud or sun cream remnants. In addition, the efficiency of the coagulant products means that they trap a greater number of particles than flocculating products.
When choosing an algicide for your pool, it's important to seek the help of a specialist to recommend the product that best suits its needs and characteristics. Above all, bear in mind that the product doesn't contain free copper, as it's a component that stains swimsuits, dyes hair green and causes stains in the pool vessel.
Piscimar offers you two highly effective anti-algae products that help you look after the water in your pool. The algicide
PM-614 ALGIBON
provides a bright blue colour, increases water transparency and repels insects, while the algicide
PM-604 ALGIKLEAN
is a double-action product that, in addition to preventing the formation of algae, is a brightener and is ideal for reinforcing salt electrolysis equipment. Its effectiveness means that it can be used as a base algicide or, when the pool water has turned green, to carry out a shock treatment. For this reason, their applications depend on each pool's needs. They're both foamless algicides.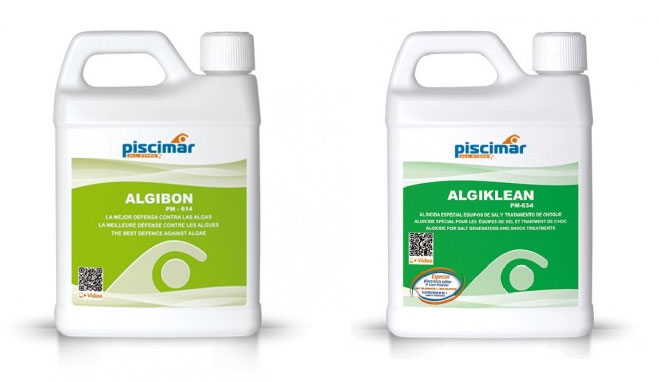 In NEDA shops you'll find a wide range of products for your pool, as well as personalised advice adjusted to your tastes and needs. Build your customised pool, make your space your own.